"Joe Strummer 001" boxset con inediti e rarità in uscita il 28 settembre 2018
Ignition Records annuncia l'uscita di "Joe Strummer 001", la prima raccolta dedicata alla carriera di Joe Strummer al di fuori dai The Clash.
L'opera (Virgin/Universal Records) contiene i brani preferiti dai fan di Strummer con i 101ers ed i The Mescaleros, tutti i suoi album da solista, le colonne sonore e un album di inediti.
Ad accompagnare il boxset, il singolo "London is Burning" https://joestrummer.lnk.to/LIBt una alternative/early version di "Burnin' Street" presente nel disco "Streetcore" di Joe Strummer & The Mescaleros
Preorder già attivo:
https://JoeStrummer.lnk.to/001
"Joe Strummer 001" – tutti i formati
• Edizione limitata Deluxe Box set: Quadruple heavyweight Vinyl, 7" vinyl single, cassette, A4 Book, enamel badge, art print, screen print, lyrics and sticker sheet (IGN53BOX).
• Edizione limitata Deluxe Double CD in A4 Book (IGNCD53X).
• Double CD in cofanetto (IGNCD53).
• Quadruple heavyweight Vinyl in cofanetto (IGNLP53X).
• Digital download.
Tutti i formati includono tracce mai apparse prima in altri album e tracce rimasterizzate e conterranno (in esclusiva) un album di materiale inedito, inclusa una prima demo di "This Is England" intitolata "Czechoslovak Song/Where Is England"; una demo di "Letsagetabitarockin" (registrata in Elgin Avenue nel 1975); scene di "Sid & Nancy" insieme a Mick Jones; l' inedito "Rose ...
l'articolo continua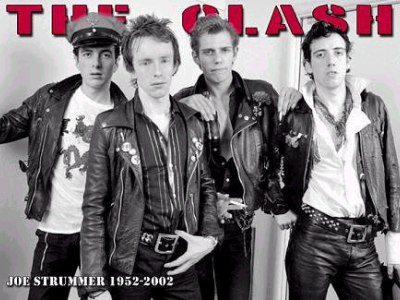 Of Erin"; il mitico biografico brano "The Cool Impossible" e "London Is Burning", uno degli ultimi brani registrate da Joe Strummer.

…………………………………………………………………………..
Pionere del punk, cantante, compositore e attivista; ispirazione di una generazione, Joe Strummer è stato il frontman più carismatico e appassionato emerso dall'esplosione punk della fine dei Settanta.

Dopo la sua morte nel dicembre del 2002, si scoprì che Joe era un archivista del suo lavoro e conservava nel giardino dietro casa, numerosissimi scritti e cassette. Ad oggi il suo archivio conta più di 20.000 pezzi. L'archiviazione di questo materiale e la realizzazione di "Joe Strummer 001" è stata supervisionata dalla vedova di Joe, Luce, e da Robert Gordon McHarg III.
Tutte le tracce sono state restaurate e masterizzate da Peter J. Moore (vincitore di Grammy Award) presso la E. Room di Toronto, Canada.
Ascoltando i nastri e le cassette si scoprì che Joe era solito nascondere le canzoni, tanto da lasciare anche 20 minuti di silenzio tra un brano e un altro. Sulle prime otto cassette, si scoprì che c'erano tracce nascoste sovraincise su altre. Ad esempio, sulle cassette numerate da 5 a 8 apparvero due nuove canzoni che vennero scoperte quando il materiale andò a Peter J Moore, il quale riuscì a separarle.

Il boxset ha lo stesso contenuto del CD set e viene stampato su un vinile di qualità 180g. Il boxset che accompagna il libro (incluso anche nel CD Deluxe) contiene cimeli raramente visti e presi dalla collezione personale di Joe, insieme a recensioni storiche della stampa e note tecniche sugli album. La cover di tutti i formati è presa dalla patente californiana di Joe Strummer del 1990.

L'artwork è stato curato da Robert Gordon McHarg III che ha lavorato sul precedente box "Sound System" dei Clash con Paul Simonon.

Dice Gordon: "L'idea dietro il libro in formato A4 rispecchia quel che Joe potrebbe aver progettato da sé per raccontare la sua storia. Si tratta di un racconto dei suoi lavori e include anche i testi scritti a mano, con tanto di note personali e scarabocchi."


"Joe Strummer 001" CD & Vinyl
tracklisting (showing Vinyl side breaks)

Side One
'Letsagetabitarockin'
1975 101ers from 'Elgin Avenue Breakdown'
'Keys To Your Heart'
1976 101ers from 'Elgin Avenue Breakdown'(Version 2)
'Love Kills'
1986 Joe Strummer from 'Sid And Nancy' OST
'Tennesse Rain'
1987 Joe Strummer from 'Walker' OST
'Trash City'
1988 Joe Strummer & Latino Rockabilly War from 'Permanent Record' OST
'15th Brigade'
1989 Joe Strummer B.side of 'Island Hopping'

Side 2
'Ride Your Donkey'
1989 Joe Strummer from 'Earthquake Weather'
'Burning Lights'
1990 Joe Strummer from 'I Hired A Contract Killer' OST
'Afro-Cuban Be-Bop'
1990 The Astro-Physicans from 'I Hired a Contract Killer' OST
'Sand Paper Blues'
1995 Radar from 'Sandpaper Blues' Exhibition
'Generations'
1997 Electric Dog House from 'Generations 1 (A Punk Look At Human Rights)'

Side 3
'It's A Rockin'World'
1998 Joe Strummer from 'South Park' OST
'Yalla Yalla'
1999 Joe Strummer & The Mescaleros from 'Rock Art & The X-Ray Style'
'X-Ray Style'
1999 Joe Strummer & The Mescaleros from 'Rock Art & The X-Ray Style'
'Johnny Appleseed'
2001 Joe Strummer & The Mescaleros from 'Global A Go-Go'

Side 4
'Minstrel Boy'
2001 Joe Strummer & The Mescaleros from 'Black Hawk Down' OST
'Redemption Song'
2002 Joe Strummer with Johnny Cash from 'Johnny Cash: Unearthed'
'Over The Border'
2002 Joe Strummer with Jimmy Cliff from 'Fantastic Plastic People'
'Coma Girl'
2003 Joe Strummer & The Mescaleros from 'Street Core'
'Silver & Gold'
2003 Joe Strummer & Mescaleros from 'Street Core'

Side 5
'Letsagetabitarockin'
1975 Previously Unreleased Cassette Tape Demo. Recorded at 101 Elgin Avenue. Joe Strummer: Vocals & Guitar.
Julian Yewdall dice: "Nel settembre del 1975 sono finalmente riuscito a fare in modo che Joe scrivesse i suoi testi insieme ad una bozza di registrazione. Dopo ho preso tutto e ho depositato la busta nella mia banca, perché questo era il metodo più veloce che conoscevo per proteggere legalmente il suo copyright. Più di 30 anni dopo, e molto tempo dopo aver chiuso il conto, mi sono imbattuto in una ricevuta dimenticata della banca tra alcune vecchie lettere e, ritornando alla banca, ero stupito e felice quando mi hanno restituito la busta".

"Czechoslovak Song/Where Is England"
1983 Previously Unreleased 1/2 Inch Tape Master Demo dated August.
Early version of 'This Is England.'
Joe Strummer: Vocals & Guitar. Paul Simonon: Bass. Pete Howard: Drums.

"Pouring Rain"
1984 Previously Unreleased 1 inch 8-track Demo Recorded July 1984.
Joe Strummer: Vocals & Guitar. Paul Simonon: Bass. Pete Howard: Drums.
Mixed by Peter J. Moore 2018

"Blues On The River"
1984 July. Previously Unreleased. 1 Inch 8 Track Tape Demo.
Joe Strummer: Vocals & Guitar. Drum Machine.
Mixed by Peter J. Moore 2018

"Crying on 23rd"
1985 with The Sooth Sayers. Previously Unreleased. 1/4 Inch Tape. Produced by Joe Strummer. Outtake from the Alex Cox film 'Sid & Nancy.'Joe Strummer: Vocals, Rhythm Guitar, Bass. Mick Jones: Guitar. Chris Musto: Drums, Percussion.

"2 Bullets"
1985 with Pearl Harbour. Previously Unreleased. 1/4 Inch Tape. Produced by Joe Strummer. Outtake from 'Sid & Nancy.'Pearl Harbour: Vocals. Joe Strummer: Rhythm Guitar, Bass. Mick Jones: Guitar. Chris Musto: Drums. B.J. Cole: Pedal Steel Guitar.

N.B. Entrambe le canzoni sono state registrate a Kentish Town e sono le prime registrazioni di Joe and Mick da 'Combat Rock.'

Side 6
'When Pigs Fly'
1993 from When Pigs Fly.
Joe Strummer: Vocals & Guitar. Danny Thompson: Bass. Tommy McManamon: Electric Rhythm, Licks Guitar, Spanish Guitar.Terry Williams: Drums. James MacNally: Flute, Piano, Bodhran. Lee Goodall: Saxophone. Steve Warbeck: Accordion. Stuart Gordon: Violin.

"Pouring Rain"
1993 from When Pigs Fly
Joe Strummer: Vocals & Guitar. Danny Thompson: Bass. Terry Williams: Drums. Steve Warbeck: Accordion.

"Rose Of Erin"
1993 from When Pigs Fly
Joe Strummer: Vocals & Guitar. Danny Thompson: Bass. Terry Williams: Drums. Steve Warbeck: Accordion. Tommy McManamon: Fuzz Electric Guitar, Rhythm & Slide Guitars James MacNally: Whistle, Piano
Previously Unreleased. From the Sara Driver film 'When Pigs Fly'
Transferred from Cassette Tape. Produced by Joe Strummer
Recorded 1993 at Rockfield Studios.

"The Cool Impossible"
1993 JS Demo
Previously Unreleased. Recorded 1993 at Rockfield Studios. 2 Inch Tape Multitrack. Produced by Kosmo Vinyl. Mixed by Peter J. Moore 2018
Joe Strummer: Vocals & Guitar. Danny Thompson: Bass. Aaron Ahmun: Drums. Tommy McManamon: Guitars. James MacNally: Piano.

"London Is Burning"
2002 Mescaleros
Previously Unreleased. Recorded 2002. The last song to be discovered for Joe Strummer 001. Reworked into 'Burning Streets' on 'Streetcore'. Originally titled 'Fire Fighting Street' and written for Joe's show at Acton Town Hall for the Fire Brigade Union on November 15th 2002. Produced by Joe Strummer, Martin Slattery & Scott Shields. Joe Strummer: Vocals & Guitar. Scott Shields: Drums, Bass, Acoustic Guitar, Slide Guitar, Synth, BVs. Martin Slattery: Electric Guitar, Chamberlain Strings, Tambourine, BVs.

Side 7 - 12" Single
"US North"
1986 JS/Jones from Candy Mountain
Previously Unreleased. Recorded 1986. 1/2 Inch Tape Master. Produced by Mick Jones. Unused song from the Robert Frank and Rudy Wurlitzer film 'Candy Mountain' . Joe Strummer: Vocals, Guitar. Mick Jones: Vocals, Guitars, Bass. Greg Roberts: Drums. Dan Donovan: Keyboards. Felippe Gonzales: Bongos. Xavier Solano: Agogo. Strings played by The Radio Futura Philharmonic Orchestra, Madrid

Il boxset conterrà tutto il materiale precedente più:
7" SINGLE
"This is England"
1984 July Demo
Previously Unreleased.1 Inch 8 Track Tape Demo.
Joe Strummer: Vocals & Guitar, Paul Simonon: Bass, Pete Howard: Drums.
Mixed by Peter J. Moore 2018
'Before We Go Forward'
1984 July Demo
Previously Unreleased. 1 Inch 8 Track Tape Demo.
Joe Strummer: Vocals & Guitar, Paul Simonon: Bass, Pete Howard: Drums.
Mixed by Peter J. Moore 2018

Cassette
'U.S. North Basement Demo'
Unreleased. Recorded 1986. Discovered in Joe's cast cupboard.
Joe Strummer & Mick Jones: Vocals, Guitar, Drum Machine





---